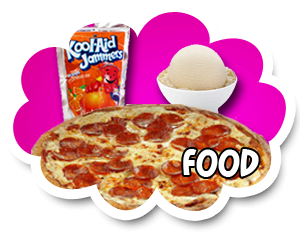 Party Pack - Food (6 Kids)
Leave the planning up to us, and just come have fun at your party!
For only $4 per child, we'll provide two slices of pizza, a drink, and ice cream cup! All you have to do is bring your cake!
What if I have less than 6 kids come to my party?
We provide enough food for 10 kids regardless of how many show up, and that's what you paid for, so feel free to take home the left-overs! We are unable to provide a refund if less kids attend.
What if I want to provide food for adults, too?
Simply purchase as many large pizzas, drinks, and ice cream cups that you would like after adding this party pack to your cart!