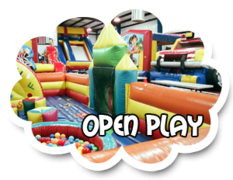 Open Play Party w/ Private Party Room! - 15 Kids
Fridays: 10:30-12:30, 1:00-3:00, 3:30-5:30, 6:00-8:00
Saturdays: 12:30-2:30, 3:00-5:00, 5:30-7:30
Sundays: 1:00-3:00, 3:30-5:30
Click the green "Add to Cart" button to see available dates and times, and then book it now online!
This party includes all of our freebies PLUS:
-
Private Party Room
for entire 2 hours during our open play time!
- Up to 15 kids admission PLUS the party child.
Want to make it just a little bit easier?
Choose a party pack at checkout and we can do the food and/or we can do the decorating for you, too! Decoration themes include: Frozen, Hello Kitty, My Little Pony, Minnie Mouse, Mickey Mouse, Curious George, Teenage Mutant Ninja Turtles, Avengers, Spiderman, and more by request.