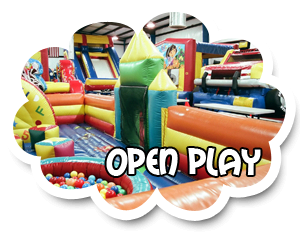 Open Play Party! - Six Kids
Fridays: 10:30-12:30, 1:00-3:00, 3:30-5:30, 6:00-8:00
Saturdays: 12:30-2:30, 3:00-5:00, 5:30-7:30
Sundays: 1:00-3:00, 3:30-5:30
Click the green "Add to Cart" button to see available dates and times, and then book it now online!
This party includes all of our freebies PLUS:

- One party table with seating and one table for food and/or gifts in our party area reserved for the entire 2 hours during our open play time!

Please note this area will need to accomodate both your children and adult guests. Please invite accordingly so you are comfortable in your party area.

- Up to 6 kids admission PLUS the party child.





Want to make it just a little bit easier? Choose a party pack at checkout and we can do the food and/or we can do the decorating for you, too! Decoration themes include: Trolls, Hot Wheels, Frozen, Hello Kitty, My Little Pony, Trolls, Peppa Pig, Minnie Mouse, Mickey Mouse, Curious George, Teenage Mutant Ninja Turtles, Avengers, Spiderman, and more by request. Email us at allbounceevents@gmail.com to see if your theme is available!