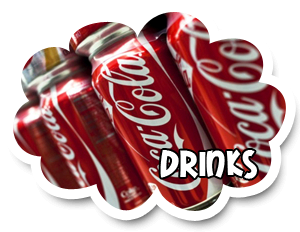 Individual Drinks
Save the hassle of coolers, bags of ice, and grocery store runs. Let us have drinks ready for you!
Just click "Add" and choose the number you'll need, then you can pick out how many of each flavor you want on the day of your party. You can mix and match from Coke, Diet Coke, Sprite, Water, Orange Kool-Aid Pouches, and Cherry Kool-Aid Pouches.
Need more drinks on the day of your party? No problem! We have plenty in the fridge and you can always add more!